I've been impelled to ask you these questions, they came to mind while listening to some of your lectures.
Responses, like always are very much respected and appreciated, thank you for the wonderful lectures and for creating the temporary space where we can all collaborate on the teachings.
Once again to keep things organized I've numbered the questions:
1)
If the Absolute is reaching higher levels of self-cognizance during each Mahamanvantara-Mahapralaya then how will this affect the next exhalation, when the universe is once again manifested into relative existence?
2-3)
The Absolute is said to be infinite, its border nowhere while its center everywhere, how can it possibly perfect itself, or reach total absolute self-cognizance when there will be a "hierarchy" of totally realized and lesser realized atoms? Do the helpers of self-cognizance (Masters) ever develop further, far beyond helping sentient beings in the manifested worlds, such as entering into the Absolute and going further?
4-5)
It appears that there is no end to the Mahamanvantaras or Mahapralayas, it is an infinite cycle which conveniently reminds us of the symbol in which the snake is eating its tail, is this not just another form of vicious cycle? Is it mechanical just as other cycles are?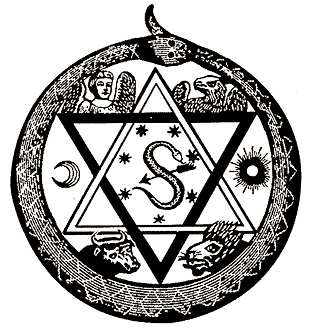 6-7)
It was stated that the Gods and Goddesses are not perfect because in their depths they still harbor ego. We know that the primary ego is lust, how do the Gods reside in the heavenly realms while they still have ego's of lust? I had the impression that the Gods do not fornicate at all, or is it that they just do not act on it?
8-9)
If the lunar bodies are feminine then are the solar bodies masculine? Are those without solar bodies basically female forms or can they appear as males like we see here in Malkuth?
10)
Since the Absolute is unknowable to itself, then to me it seems that it will never reach total realization, is it possible that the Absolute is just a medium for another higher level of existence? For example, its opposite, the tree of life is a medium of relative existence. The tree of life in one way appears to be feminine in relation to the Absolute, just as each Sephirah is in relation to the one above.. If this question did not make sense, please let me know and I will try to clarify it further.